---
Veterinarians
Joe Gainey, DVM
Dr. Gainey is a 2006 graduate of The Ohio State University College of Veterinary medicine and the owner of the Uniontown Veterinary Clinic. In December 2009 Dr. Gainey and his wife Angela moved to Uniontown and purchased the practice from Drs. Dave and Denise Ballinger. Prior to moving to Uniontown Dr. Gainey had practiced in Dover and Salem, Ohio where he worked with a wide array of medical and surgical cases and had the opportunity to work with and learn from a large number of other veterinarians. Dr. Gainey's passion for animals comes from growing up on a dairy farm in Holmes, County Ohio. He was raised around holstein dairy cattle, horses, dogs, cats, and a few chickens and pigs. To this day Doc does his best to find time to visit his mother, who is an avid rider and to ride his horse "L.B." His veterinary interests are in soft tissue and laser surgery, preventative care, and chemotherapy. Dr. Gainey and his wife Angela live in Uniontown with their four footed children, six dogs "Annabelle," "Benson," "Honza" and "Watson", "Holmes" and "Molly" and two cats "Steiny" and "Angus".
---
Alyssa Auer, DVM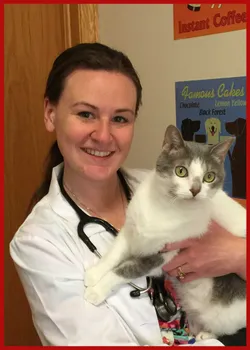 Dr. Ayssa Auer joined our staff in March of 2017 after practicing at a small animal clinic in Stow, Ohio. She grew up on a small farm in Indiana and later graduated from Purdue University with a degree in Animal Science in 2009 and continued her education at Purdue to receive her Doctorate of Veterinary Medicine in 2014. She enjoys the veterinary field because it allows her to help give a voice to the creatures that don't have one. Dr. Auer and her husband, Tim, were married in August of 2016. Together, they have many pets! "Chloe-Bear" Shiba-Inu/Basenji mix, "Chloe-Jo" Golden Retriever, "Chloe the Tortoise, "Domino No!" Domestic Shorthair cat, "Tiny Baby Life Coach" her Cat and Mentor, many fish all named "Chloe" except for "Beta-baby!" (can you see that she likes the name Chloe?) In her spare time she enjoys gardening, growing basil and riding horses.
"Cats are not small dogs! They are really good at hiding illnesses. Grain-free diets are only a trend!!!" - Dr. Auer
---
Michael McAndrew, DVM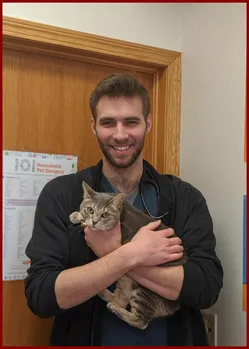 Dr. Michael McAndrew graduated from The Ohio State University College of Veterinary Medicine in 2019. He received his Bachelors degree in Animal Science and Biology from the University of Findlay. He enjoys internal medicine and surgery. He loves people, animals and biology, and veterinary medicine is a perfect combination. As a Canton native, he shadowed at Belpar Pet Care Center for 12 years prior to being hired! (Some of you might recognize him!) He knew that he wanted to become a veterinarian from a young age and is now working in the veterinary practice that he grew up with long ago. A fun fact about Dr. McAndrew is that he is SCUBA certified. Dr. McAndrew has a cat named "Schecter."
---
PICTURE AND BIO COMING SOON!
---
Vicki Grumman, DVM
PICTURE AND BIO COMING SOON!
---
Mike Slawienski, DVM, DACVS
Dr. Mike Slawienski s a Board Certified Surgeon who has worked in the Cleveland/Akron area for several years. He is available for advanced/complex surgical procedures on dogs and cats on a scheduled basis. Orthopedics/joint surgery, fracture repair, soft-tissue surgery, oncology surgery, neurosurgery and other complex surgical procedures can be performed on premesis. After a diagnosis has been made by one of our doctors and surgery has been recommended, we will schedule an appointment for you to meet with Dr. Slawienski in the morning and surgery will take place that day. In most cases, your pet will go home that evening.
Dr. Slawienski is a native of Buffalo, New York. He received his Bachelor of Science degree in Animal Science from Cornell University and his Doctor of Veterinary Medicine degree from Iowa State University in 1992. He completed an internship in small animal medicine and surgery at West Los Angeles Animal Hospital and trained as a resident in veterinary surgery at the prestigious Animal Medical Center in New York City. He became a Diplomate of the American College of Veterinary Surgeons in 1999. Dr. Mike practiced at Associated Veterinary Specialists in St. Louis before moving to Ohio with his family in 2004. He has provided soft tissue, neurologic and orthopedic specialty surgeries for patients of veterinary hospitals in Northeast Ohio and surrounding areas since that time. Dr. Mike is an avid homebrewer and as a BJCP certified judge has judged beer competitions nationally and abroad. Dr. Mike enjoys spending time with his three young wonderful children and his wife and his dog Roux and cat Shadow.
---
Our Clinic Mascots
Benson, Watson, Holmes, Molly, Honza & Annabelle
Molly is a Miniature Dachshund owned by Dr. Gainey and his wife Angela! You can find her usually snuggled with her "Dad", Dr. Gainey, in our back office!
Benson is a Wirehair Dachshund. He also is owned by Dr. Gainey and his wife Angela! The wirehair dachshund is normally known as "the clown" of the dachshund family, and that he is!! Benson loves to play and come and say hello to everyone when they arrive for their appointment. He doesn't know a stranger! He has been competing in dog shows with his mom, Angela, and has achieved his "GRAND CHAMPION" status!
Annabelle is the smallest Wirehair of the family. She is such a tiny peanut. Dr. Gainey and Angela got her for the intent to continue showing Wirehair Dachshunds. She, also, is a clown! She is so spunky and full of energy. She loves to play with her brothers and "talk" to all the patients coming in for their visits.
Honza is the newest Wirehair to join the family! He came from Poland (Yes, the Country!) to compete in AKC events. He is a total mama's boy. His hobby is Barn Hunt and chasing his cat brothers around the house.
Next time you are in our office, feel free to ask if the Gainey kids are working, and they will sure be glad to see you!!
Our Staff
Angela Gainey, CVPM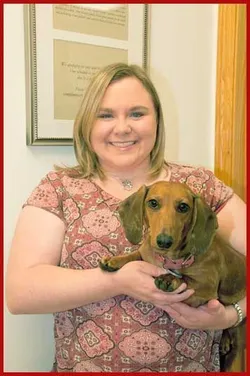 Angela serves as our Practice Administrator. She takes care of human resources, accounting, inventory and marketing for the clinic. She networks within the local Chambers of Commerce and the BNI Green Initiative Chapter. She is also an advocate for The 3/50 Project, a nationwide program that promotes local spending and supporting small businesses. She and Dr. Gainey have 8 pets; two cats, Steiny and Angus, and six dogs, Annabelle, Benson, Honza, Watson, Holmes and Molly. Her favorite part about working at the Uniontown Veterinary Clinic is working alongside her husband and providing quality care to the community's four-legged family members.
---
Ashley, RVT- Practice Manager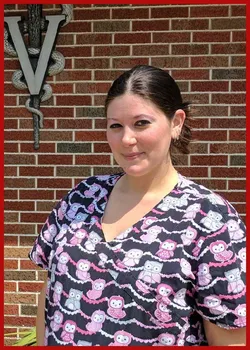 Ashley is a 2013 graduate from Brown Mackie College with an associates degree in Applied Science. After her internship with us, she first started working with us at our Belpar office helping with boarding pets. She transferred to our Uniontown office to assist in surgery and room assisting until she received her tech license in 2014. She is a fear free certified professional dedicated to making veterinary visits as fear free as possible for all pets. A fun fact about her is that she is the oldest of 8 children and she likes exotic animals. Ashley enjoys nursing pets back to health and sharing her knowledge with others. Her hobbies include candle making, scrap booking and spending time with her daughters, Lilly & Annabelle.
"Education is key. Do your research whether it be food, breeds, whatever, make sure you use reliable sources and when in doubt ask your veterinarian!" - Ashley
---
Mandy

Mandy is another valued receptionist here at Uniontown. Her favorite thing about working in the veterinary field is being able to care for all the dogs and cats and treat them like her own. In her spare time, Mandy and her husband enjoy hiking, reading, kayaking and spending time with their Chihuahua, Lola.
"New situations can make your puppy nervous. Take him or her lots of places, especially to the vet for fun visits like weight checks and to pick up prescriptions. This gives your pet a chance to make new friends and visit without the nervousness of always getting poked!" - Mandy
---
Nicole B., RVT
Nicole has been a member of our staff since June 2016. She became a Registered Veterinary Technician through Kent State University. She enjoys working in the veterinary field because there is always something new to learn every day. In her spare time, Nicole enjoys target shooting, 4 wheeling and spending time with family. She has 3 White German Shepherds (Cotton, Motto and Sasha) and 6 cats.
"Obesity shortens life span and reduces quality of life. Talk to your vet about healthy treat alternatives!" - Nicole
---
Amy R., RVT
Amy received her Associates Degree in Veterinary Technology at Brown Mackie/Ross College and has been with us since March 2017. She externed with us at our Belpar office and we loved her so much we offered her a position!!! Amy enjoys taking care of all animals because it gives her great pleasure to nurture our companions and give them the opportunity to live great lives with their owners. Amy and her son have 2 cats: Mae and Ruby. In her spare time she enjoys traveling outside of the country, reading, golfing and spending time with her son. She really loves to ride roller coasters, but not ones that spin in circles!
"A pet's love is pure and unconditional." - Amy
---
Amber, RVT
PICTURE AND BIO COMING SOON!
---
Kaitlyn, RVT
PICTURE AND BIO COMING SOON!
---
Hannah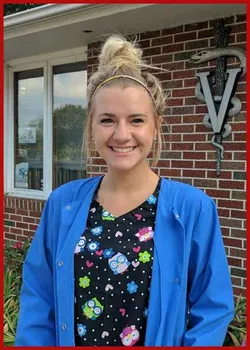 Hannah joined our staff as a room assistant in May of 2017. She currently is enrolled at Kent State University to become a registered veterinary technician. She loves animals and loves being able to learn new things every day at work. Hannah has a turtle named "Myrtle." In her spare time she enjoys hiking, volleyball, swimming, reading and hanging out with friends.
"Don't listen to everything you read on the internet (AKA coconut oil)" - Hannah
---
Maggie
PICTURE AND BIO COMING SOON!
---
Allie
BIO COMING SOON!

---
Logan
PICTURE AND BIO COMING SOON!
---
Barb
PICTURE AND BIO COMING SOON!
---
Jessica

PICTURE AND BIO COMING SOON!
---
Sarah F.
PICTURE AND BIO COMING SOON!
---
Tiffany
PICTURE AND BIO COMING SOON!
---
Kaylei
PICTURE AND BIO COMING SOON!
---
Sarah C.
Sarah joined our team in September 2012 and helps at the front desk and with marketing at both Uniontown Vet Clinic and at our sister clinic, Belpar Pet Care Centre. In her spare time, she enjoys sewing, reading, doing anything crafty, being outdoors, and working on home renovations with her husband. She and her husband have 2 beautiful daughters and a rescue Bernese Mountain Dog, Layne - from BARC, INC. and enjoys spending as much time with them as possible. She enjoys working in the veterinary field because by educating pet owners, it allows them to provide the best care for their pets.
---
Jamie
PICTURE AND BIO COMING SOON!
---
Kerri
PICTURE AND BIO COMING SOON!